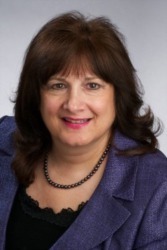 Cell Phone: (978) 239-6410
Office: (978) 774-2770
96 High St., Danvers, MA 01923

Please visit my website: www.BethGandelmanRealtor.com
for property searches, home values, photos, area events and other helpful tools.
Email: [email protected]

Beth Gandelman serves as a realtor with Century 21 North East-North Shore. She became a Massachusetts Licensed Realtor in early 2013 and brings 20+ years of experience in sales and marketing to her real estate career as well as 7 years in leasing and property management. She is customer-service focused and each client will receive a great deal of attention. With a background in communication, she keeps her clients well informed and accepts calls from 8:30 a.m.-10:30 p.m.
Beth helps her clients achieve their goals in real estate, based on their individual needs. Beth has bought and sold 8 of her own properties prior to becoming licensed, always having an affinity for real estate, particularly following market trends. She understands the importance of home ownership and maximizing home equity.
Beth welcomes the opportunity to work with experienced and first-time home buyers; and having worked in senior living, enjoys working with seniors and their families. She is a wealth of information in navigating senior services and knowing the resources and services in the communities she serves.
Beth was a resident of Newburyport for ten years and moved to Salisbury in 2010. Over the years, she also lived in Methuen, Tewksbury, North Tewksbury and Wakefield—always as a home or condo owner. Her property management experience gives her a depth of knowledge in the field of condo management and rehab situations and works with many reputable companies for those needing to hire contractors. She has sold foreclosures and works with investors looking for rehab or rental properties.
Beth holds an M.S. in Public Relations and B.S. in Education and Mass Communication from Boston University and a Certificate in Marketing from Northeastern University. She achieved a first place national sales award from Marriott Senior Living Services. She is also a Massachusetts Notary Public.
Thank you for putting your trust in me as your real estate agent.